Your Body After a Baby
By Dr. Patricia Hort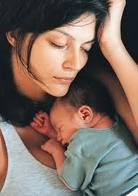 With all the excitement of a new baby it is easy to lose the sense of what our bodies have gone through and what is yet to come. It is important to realize that after pregnancy and birth your body will again undergo many changes. Your center of gravity changes, hormonal levels change, your breasts produce milk and change in size on a daily basis, tissues shrink, tissues heal, you walk differently and so on. Your body is considered 'post partum' from a biomechanical perspective for one full year. That means that the relaxin hormone, although no longer being produced in your body, still has an effect on the ligamentous structures in your body, namely your joints and specifically your spine and pelvis.

With this laxity in your ligaments you don't have the strength in your joints like you had before pregnancy. This can cause your sacrum (tailbone area) to still feel wobbly and unstable, your pubic bone area to be sore, you may fatigue easier, you may experience difficulty taking steps forward or have one leg turn out to the side, you may have sciatic pain that you thought was gone part way through your pregnancy. On top of all that, you are managing to care for a new baby, and maybe a toddler or other children, with a shortage of sleep, no real exercise, and more than average levels of stress. Failure to restore normal biomechanics and tissue health may result in future health problems and possibly with future pregnancies, not to mention making it difficult to care for a newborn. If you had a difficult or traumatic delivery your spine and pelvic joints have even more challenges to overcome. Rest assured these challenges can be overcome.

Throughout pregnancy, the birth process and early post partum, your body has undergone many stressful events and some type of recovery/rehabilitation to reach your pre-pregnancy state should be sought. Chiropractic adjustments quicken recovery time, assist the body in normalizing overall pelvic and spinal biomechanics and help you overcome the postural issues created by taking care of your new baby. A chiropractor experienced in the care of pregnant/post partum women can also show you the best position to sit, tips on posture when nursing, how to lift your baby in and out of car seats and cribs and recommend other healthcare providers that could assist you in your life with baby. Yes, this is a time that we are focused on that new baby and who wouldn't be? Remember though, to give your baby your very best, you need to take good care of yourself too.
It has been an ongoing journey for me after having three children, and I am eager to help you in your healing journey.
~Dr. Trish